I've been meaning to start writing book reviews for a while, and inspired by blogger-pal
LandGirl1980
's great selection of reviews, I am starting this habit right now!
I have been recently disappointed by several books regarding women's history. Being such a wide-ranging and vibrant subject, I can't understand why some authors seem unable to produce any narrative! Instead they just rely on constant lists of names with no context on WHY we should care about these characters (I didn't want my first review to be a negative one, but expect an example soon!)
I am glad to say, '
Britannia's Daughters: Women of the British Empire
' proved most-readable.
I'm not sure I agree with the reviews of "
Gripping...unputdownable
" but certainly a very lively approach to describing the women who signed up to escape in search of opportunities and adventures they couldn't have at home. I particularly enjoyed the inclusion of fun and lighthearted family photographs which help add gravitas to the women's choice to leave their home and family behind.
Map of the world showing the extent of the British Empire in 1886
I think the books strongest point is its broad-range of study regarding the social classes of the time. I think many imagine those who left to join "
The Empire
" enjoyed a life sipping a G&T whilst riding an elephant and brandishing a parasol. A dark truth we discover in the later chapters, is the deportation of women to the "
uninhabited lands
" of America, and eventually Australia in ships so cramped that a 6x6 foot space was deemed more than enough for four bodies. Their crime? Moral- Victorian England's worst nightmare...prostitution. Not something that would automatically spring to mind is it? They didn't send them to the "
productive
" lands of India (which already had a vast issue with prostitution) instead stuck to a typical "
out of sight, out of mind
" approach, shocking.
"
Every woman is a nurse
" is a fantastic chapter, describing to us the horrors of Victorian hospitals being no place for '
respectable'
women (and rife with alcohol problems apparently) and the great change which followed when The Nightingale School of Nursing was set up. An important change swiftly followed around the empire, as finally women could be treated by their own gender, and stop being ashamed to discuss their situation or maladies. And for some of the doctors and nurses themselves who had lived previously sheltered and privileged lives, they now had to adapt to a whole new culture without the protection of their male family...and it would seem many relished this adventure! A particularly good quote from Dr Ellen Farrer, writing from India in 1891 describes the resolute self-sufficiency of each working day:
"
Woman with dropsy arrived from Dadri on a camel. Cut orange peel for marmalade...went to see the postmaster's daughter, she has hysterics...Thirty five patients at dispensary...snake killed in Annie's bedroom"
My particular reason for picking up this book was because I hoped for stories about the female naturalists and plant-hunters who braved the jungles and highest mountains to bring back examples of previously unseen flora&fauna. I wasn't disappointed exactly, but I think a longer chapter could have been dedicated for Marianne North (who dedicated her life to painting plant specimens), Mary Kingsley (writer and explorer, particularly known for her work in Africa) and Margret Fountaine (Diarist and natural history illustrator). I think slightly too much detail was put into the darker/seeder side of women in the empire and not enough into the truly wild and colourful stories of the women explorers. There are some fantastic photographs of these women and their work at least, so it's best seen as a suitable introduction. I will be on the look-out for a more in depth study of these heroines soon!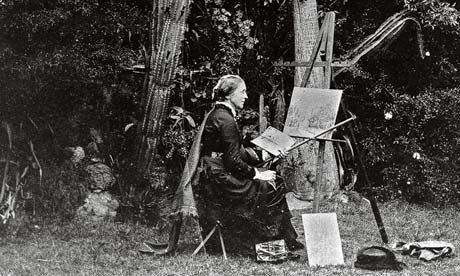 Marianne North travelled the globe painting plants in their natural habitat
Marianne North - A Selection of Flowers from Mount Wellington, Tasmania (1880s)
So I would personally give "
Britannia's Daughters
" a 7/10. It's more of a lively-introduction than an in-depth history, and it did leave me with some questions. However, the chapters relating to the medical history was VERY informative, and has opened my eyes to the brutal truth surrounding womens missions abroad.
Thanks for reading!
Katie