As some know, I am currently undertaking a research project of the Hampshire and Surrey area during the first and second world wars. Obviously, Aldershot has a rich and proud military history, but i am more interested in digging out lesser-known events and areas, particularly the few prisoner of war camps that featured on the heathland very near my home. I was lucky enough to discover a 'Magic Lantern' glass slide on Ebay, which depicted (very unclearly in their original picture) a photograph taken of a very early camp of German prisoners. I managed to buy it, and after a long wait for it to arrive, I have finally scanned it in. Here is the first one to show you the slide casing details,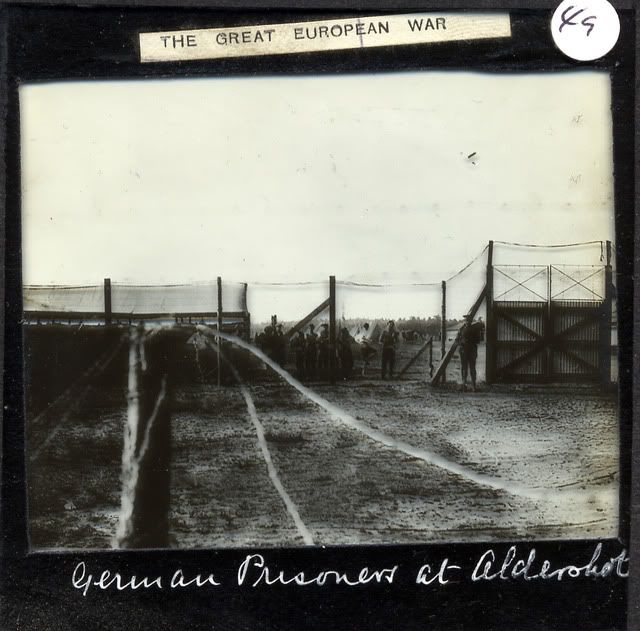 As you can see, there was a clear headline of "The Great European War" - referring to the First War of 1914-1918. The second line reads "German Prisoners at Aldershot" but does not provide a date.
After my own research (which could very well be incorrect, but I'm pretty confident!) I believe this to be a photograph of the 'Frith Hill' prisoner of war camp which was created in Aldershot during August 1914, as there were no other specifically built prisoner of war camps built in Britian at the time. It was a disused industrial area, in a suitable position due to it's closeness to the coast and rest of the south's road access. It was initially used to process prisoners before they were passed to various locations around the country.
I scanned the glass plate and managed to get quite a good result, considering it's nearly 100 years old! I chose not to edit out the damage to the plate, as i find it all part of it's interest!
My research leads to believe that there were both German and Austrian prisoners at the camp, and the description's i have found of
"vast wire fencing and guard posts linked by telephones"
fits the picture well enough! Inside the camp, they lived in the same bell tents as the British Army. Inside the camp there was also a post office a hospital and sports areas. The prisoners and internees received the same food ration as the British Front Line troops, which of course, wasn't the case for the captured British prisoners by Germany. This is what interests me about these British camps, it was a completely different environment to those abroad. I agree that it must have been awful for the prisoners to have been kept away from their homeland and families for so long, but no evidence states that they were mistreated. I was relieved to hear this, as i would have hated finding out a more unpleasant story about a place so near to my home!
I asked my Grandad about these camps which were in the area during World War 2, and he confirmed that the later camps involved the prisoners in the agriculture of the area, with German and Italian soldiers helping in the surrounding farmland.
Apparently, there was 6 successful escapes from Frith Hill, which caused serious alarm to the surrounding areas, with thousands of police and soldiers joining the search to find them. Only one evaded their capture, and escaped the camp.
In four years, only 3 or 4 inmates died at the camp, and were buried nearby. I would be interested to see what lies on this area now,
I know of later camps being build on the common land very nearby, so that is my next research venture, but to find such an early example is very exciting!
The picture is very telling of the fear, the barbed wire fence in the foreground preventing the photographer from approaching, and the men clasping at the fence is of course, upsetting. I wonder if it was taken by a soldier or civilian? For a local of the area, it must have been quite a spectacle to behold, and i would imagine, a very frightening prospect.
Now, for the record, this is simply for my own historical understanding, I obviously find these events upsetting, however, we can't deny the past, and also, one must remember that the English camps were very different to those over seas. Considering my paternal Grandmothers side of the family were Jewish and living through each of the world wars, I do not take this matter of history lightly, but that is another story all together! But I find it very important that we learn as much as we can about our (not so distant!) past.
I hope for those familiar with my local area, that was useful!
Thanks for reading!
Katie