I know I'm fulfilling every British stereotype by talking about the obvious (positive) change in weather...but regardless, here are a few of my collected photographs which i think accompany this weeks heatwave quite nicely!
Perfect parasols, he's a lucky guy!
A classic British garden scene! Obviously the sun was in everyones eyes.
My newest find, an inpecably dressed young lady on the beach...could it be a studio though?
Somethings a little TOO perfect about this scene!
And speaking of basking, what would be better to sit out in the sunshine than the beautiful and iconic Antelope Chair, seen on BBC's "
Undercover Antiques
" program last week, originally designed for the terrace of the new Royal Festival Hall at the 1951 Festival of Britain. The Antelope defined British expectations of what it was to be modern, there are plenty of 50s inspired pieces surfacing this month...can't think why!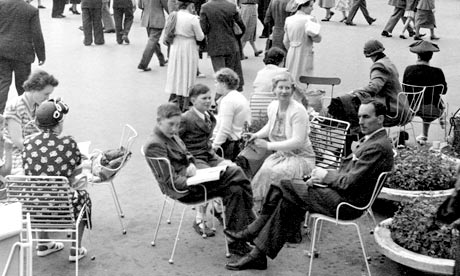 Festival of Britain, May 1951. Photograph: The Royal Festival Hall Archive
I will be indulging in several Jubilee themed posts, that's a promise! Have a wonderful weekend, get out in that sunshine! Katie